To foster a greater sense of community and collaboration, the Center for Fraternity and Sorority Development encourages each organization to submit events to be included on the Fraternity/Sorority community calendar. Please log-in to the UConn Events Calendar, click "Submit Event" at the bottom of the page, and then follow these steps: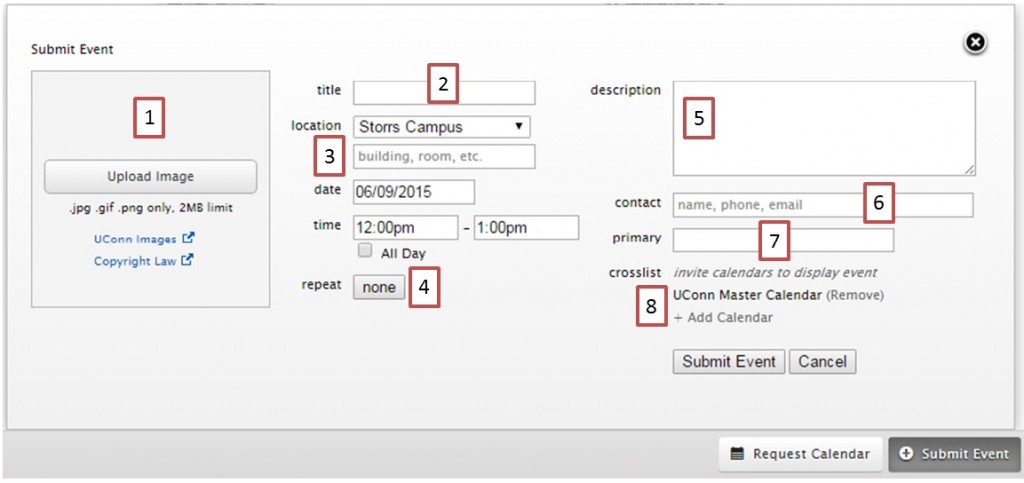 1. Upload an eye-catching flyer or graphic for your event.  Images sized as a square usually look best.
2. Enter an appropriate title for the event. Inappropriate or suggestive events titles may result in your event being deleted from our calendar.
3. Enter the location for your event. Be sure to include all relevant location details. If  your event will not take place on a UConn campus, select "other" and then enter the name and address of the venue where your event will take place.
4. Set repeat. If your event will take place more than once use the repeat function so that you don't have to submit each event separately. You can set events as daily, weekly, monthly, or annually.
5. Write a description. Your event description should clearly articulate the goals/purpose of the event as well as be inviting. Be sure to include any special details (admission price, dress code, expectations, etc.) about your event here.
6. Enter contact information for event coordinator. Please include the name and email for the primary point of contact for the event. Ideally, this will be someone who is not only involved in the planning process but someone who will be responsible during the event.
7. Select "Fraternity & Sorority Life" as the primary calendar. If there are additional calendars where you would like your event to appear, feel free to add it to those as well.
8. UConn Master Calendar? Sharing with the UConn Master Calendar is the default and enables anyone connected to UConn to see your event. In many cases, you may only want to promote your event to the fraternity and sorority community. If you have a selective audience, please click remove.